Burgers, dogs, sausages, brats, chicken and steak; what do they all have in common?
Aside from all being things I curiously found in the front of my pants after waking up from a blackout on the kitchen table while my wife judgmentally shakes her head at me while making my child's breakfast; they are your grilling mainstays.
When you decide to fire up the Weber, its almost a guarantee that one of those items will be aiding in your carnivorous desire. Nothing wrong with that at all. Hell, I'd eat one of each right now as an appetizer. But I have one question: where are the pork chops? Why the hell aren't YOU grilling more pork chops?
I'll tell you why…you have no idea how to prep and flavor them, and you're panicking.
You're scared; a timid baby bird just looking for your wings. Well, I want you to nestle up to Pappy Crane because I am going to whisk you off your feet and carry you to a land of pork chop pleasure. A place where you can happily and confidently prep, frolic, hug and cook a juicy hog chop.
First and foremost, if you aren't lucky enough to get your hands on one of Dizzy Pig BBQ's arousing rubs like Dizzy Dust and instead you go to Food Lion to buy some plastic cup of store brand grill-mate pork rubs, you need to turn off the internet and get back to your quilting hobby and leave the manly stuff to us.
Now that we've got that out of the way, let me tell you about a marinade that can be made with items you most likely have in your fridge and/or pantry this very second. Guaranteed to give you a succulent, moist pork chock-full of flavor. Read that last sentence again. Out loud. Slowly. Do you feel that? That's America, baby!
What you'll need:
1 medium sized onion (Chop that thing).
1/2 cup of pineapple juice – Orange juice or margarita mix are also acceptable substitutes
1/2 teaspoon of garlic powder
1/2 cup of soy sauce
1/3 cup of olive oil
2 tablespoons of brown sugar
Dash of salt and pepper
Take all those ingredients and whisk them together with your fingers in a large bowl. You could use a whisk…I suppose. But, I mean – why have fingers then?
Then take 4 to 6 decent sized chops, drop em' in one of those large Ziploc freezer bags and pour your newly concocted, savory potion all over those little devils.
Seal up that bag, stick it in your fridge and let em sit overnight while you struggle to breath through your sleep apnea. In a pinch, you could also do this in the morning, when you're done with your bacon and eggs, just before heading out to work. That way when you come home, those pieces of animal candy will be ready for you to suplex them right onto your ManGrates.
All grills are different in the way they deliver heat, so aim for a soothing medium/high setting and keep an eye on the meat. Don't go flipping them around like a fish out of water, trying to impress your friends. 8-10 minutes on each side and you're all set.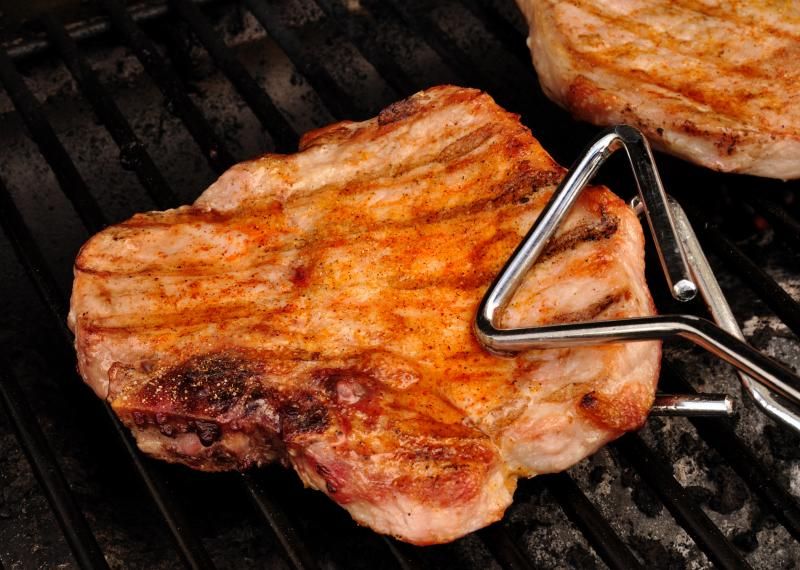 What are you waiting for? Get to marinating and put more pork in your life!