The holidays are upon us, and with that comes an over abundance of flavored offerings. Gingerbread scented condoms, candy cane infused ketchup, red velvet organic deodorants, and egg nog oak-aged muscle relaxers are a few that come to mind.  There is literally no escaping it.  I am not complaining, just making a point.  So, embrace it.
Even beers get this enrichment treatment, and of course I want to try em' all.  I want them to be inside me and I want to be inside them.  So, when this time of year comes, I put on my tightest undergarments and jog the 6 miles to my favorite booze store (Honeygo Wine and Spirits) to peruse their stock.  Christmas Ale this.  Snowflake Porter that.  Seemingly the same stuff any of us would have come to expect.  When up on the shelf, a 4-pack sparked such a chatter, I pushed my way through to see what was the matter!  And what to my wondering eyes should appear, words like "Pudding" and "Toffee" splattered across this label of beer!  Merry drinking to me, and to me it would be a good night!
Yes, this isn't exactly a "holiday" seasonal offering, but it was nestled amongst a barrage of labels featuring Santa Claus and elves, so its differentiation is what grabbed the immediate attention of my retinas.  Plus, I was familiar with Wells & Young's and whether you realize it or not, you are too.  Their most popular variety being that of their Banana Bread Beer, which people seem to either love or hate.  Also, the very first "flavored" beer I had when I was a young, smooth boy of 3, the Double Chocolate Stout, was a thing that dreams were made of.  Needless to say, Wells & Young's know a thing or two about making beer synonymous with dessert, so their new "Sticky Toffee Pudding Ale" should fit right in with the rest of the family!  Shouldn't it?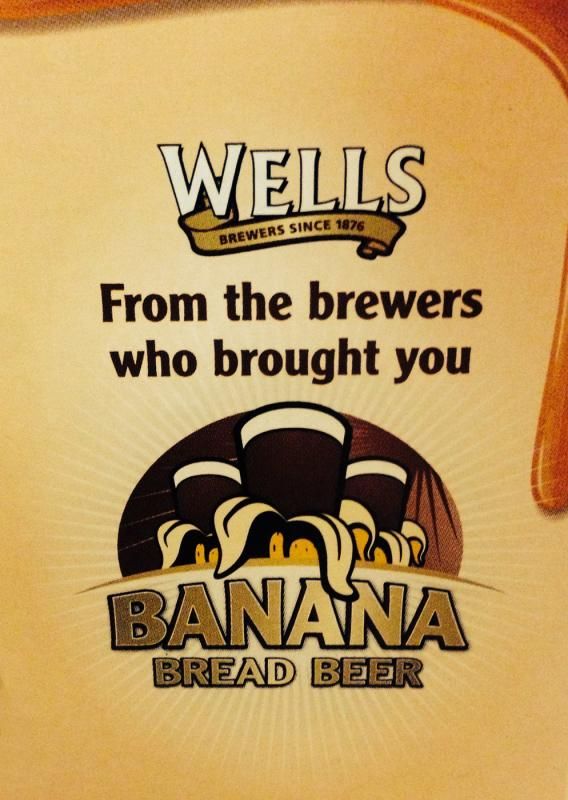 I got prepared for sampling this English bitter the same way I always do with ever beer.  I tell my beautiful wife to leave me completely uninterrupted for the duration of the evening, spread out my Swahili Kodiak bear skin rug, slide into my crushed velvet unitard that was blessed by Pope John Paul himself at at the Vatican premier of 3 Ninjas: High Noon at Mega Mountain, and light one single, solitary Yankee Candle.  (Midnight Jasmine scented, for those of you painting the mental picture at home.)  Unsheathing one of the vessels from its cardboard confinement, I noticed a small branding which read: "Based on the Great British Pudding."  I don't know what the hell that means, but I'll be damned if it didn't spark an enormous amount of arousal deep down in the caverns of my pantaloons.  So, I immediately tore the metal cap from its glass sanctuary using only my incisors and began to pour my fresh brewed treat into the glass.  As the ale emerged from the bottleneck, it greeted me with a smile and a rich chestnut hue with a slight fizz.  As it began to accumulate in the chalice, it looked almost coal-black, nearly opaque, topped with a very light and fizzy head.  Very cola-esque.  I was a bit surprised at how light in body it appeared.  With a word like "pudding" in the name, one would think that it would pour burly and thick, like one of Bill Cosby's sweaters, and that just wasn't the case.  But let's be honest, who the hell cares?  After all, I wasn't there to look at it.  I was there to drink up that tasty sumbitch!
I buried my nostrils uncomfortably close to the lingering foam and breathed in deeply.  My septum twerked amidst the aromas of vanilla and caramel.  It smelled glorious.  I'm not sh*tting you.  It smelled so good that with my eyes closed I would have sworn that only inches away from my face Ms. Fields, a Keebler Elf and Sara Lee were having an orgy at Knotts Berry Farm.  Incredible. Unfortunately my confectionery wet dream began to pump the breaks once the ale traversed my lips.
I took a sip, swallowed and then sat in silence.  I remember thinking to myself, "Well, that's a very odd, yet familiar, taste. But what was that flavor?"  I took another sip, and another.  Puzzled, I jumped up and sprinted to the trash can to inspect the bottle I had just tossed in moments ago.  I did pour a beer, didn't I?  Did I somehow mix something up when I carried it from my fridge, to my glass, to pour?  Why was I so confused by the flavor?  Well my friends, I knew the label reads ale, but my mind and mouth weren't convinced.  I was certain that I was holding in my hand, a tall cold glass of, WAIT FOR IT, soda.
Yes, you read that right.  SODA.  Not just any soda, but a very peculiar type of cream soda.  This is where I was torn like Natalie Imbruglia.  I love cream soda and I love beer.  However, I just wasn't convinced I liked my beer tasting like cream soda.  Maybe I was caught off guard, but it was a definitive conundrum.  Unlike many of the "desert style" beers I've had in the past, no matter how pronounced the flavor profile was, I still could taste that it was beer I was consuming.  This had NO beer character at all.  As far as my taste buds were concerned, I might as well have been sitting in a 50's era Malt Shop with a slicked back hair sharing this "beer" with some pig-tailed broad in a poodle skirt out of a whipped cream laced glass and one straw.  I will say it's unfair to say I was completely shocked by the taste as the name of the beer itself sounds like the name of Willy Wonka's sex dungeon, but it will definitely throw your senses for a loop.
Now that we are past the sweetness of this drink, I will say that some of the flavors, though artificial tasting at times, are good.  The toffee is probably the most dominating and noticeable with a roasted nuttiness coming in at a close second.  Aside from some vanilla gyrating in the distant background, I'm still not sure where the "pudding" comes into play here.  The flavor, the body, the look…nothing says pudding.  Either this was just a word that someone slapped on the label for marketing purposes, or it truly was a representation "based on the Great British Pudding."  Again, whatever the hell that means.  The beer did have a tinge of bitterness on the finish, but the sweetness was so influential that you may bot even notice it on your first bottle.  The biggest problem you will face is whether or not you will be able to have a second bottle.  As for me, I couldn't drink these back to back.  No way, no how.  I did, however, have another a couple of days later and enjoyed it, but like my first, by the time I was done I was bored with the flavor.
With all that being said, I think this beer is a toss up.  I think many are going to love it, many are going to hate it, and a small handful are going to be left in a Land of Confusion like Phil Collins. After all it is the Inception of Ales.  It's a soda, trapped within a beer, trapped within a soda.  One thing that Sticky Toffee Pudding Ale has going for it is a 5% ABV so if you can handle the flavor profile, you will be able to put a bunch of these down without worry.  For me, I couldn't.  One per sitting is my max.  The over the top soda similarities and overall lack of any beer characteristics whatsoever left a bit to be desired on my end.  For those reasons, I regretfully have to give Sticky Toffee Pudding Ale 2.5 Beer & Pig Camo Tees out of 5.
I suggest the next time you are out at your favorite brick & mortar craft shop to pick up your holiday libations you snag one of these and give it a try.  I'm very interested to hear your thoughts as I got varying reactions when sharing this with some compadres.  If you are able to get your hands on some, be sure to let me know your thoughts over on my Twitter!